Asus XA08 Rog Strix Flare II Mechanical Wired Gaming KeyBoard NX Red Switch
Key Features
Item ID : NS008518
Brand : Asus
Product / Switch Type : Mechanical
Keyboard Size : Full Size
Connectivity : Wired-USB
Show more
INTUITIVE CONTROLS
Metal media control keys are arranged so they're right at your fingertips, and can be programmed into hotkeys. Turn the scroll wheel to adjust volume or mute audio, and use the knob to reverse or skip tracks, pause or play.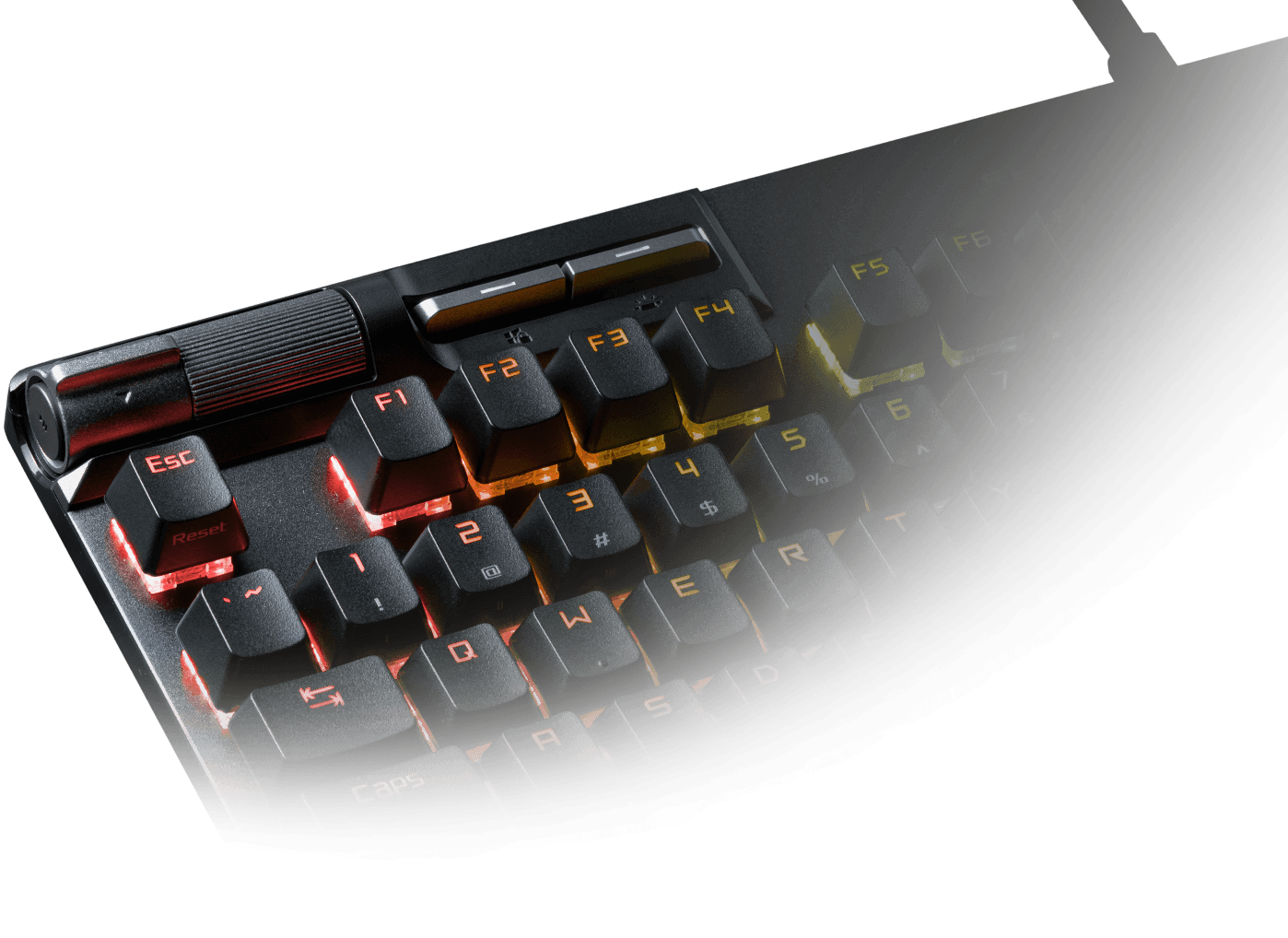 A short, rendered video of an MCU
ALMOST-INSTANTANEOUS RESPONSE
A high-speed USB microcontroller delivers an 8000 Hz polling rate that refreshes input up to 8X faster than competitor keyboards, reducing delay from 1 millisecond to a mere 0.125 ms.
ROG NX MECHANICAL SWITCH
ROG NX mechanical switches with lubricated stem for a smooth click feel, lubricated base housing to eliminate spring bouncing noises, fast actuation and ROG-tuned force curves for great keystroke feel with great keystroke consistency.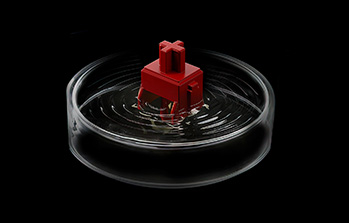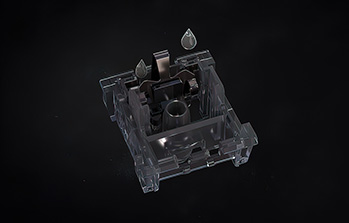 The switches have lubricated stems and base housings that offer a smoother click feel and eliminate spring bouncing noises respectively.
LINEAR & SWIFT

ROG NX Red Mechanical Switches provide a 1.8mm actuation point for fast input. Initial actuation force of 40gf helps prevent accidental keystrokes, and it extends to 55gf for perfect rebound feedback. As a result, keystrokes are instantaneous and have a smooth and linear feel.

1.8mmActuation Point
40gfInitial Force
55gfTotal Force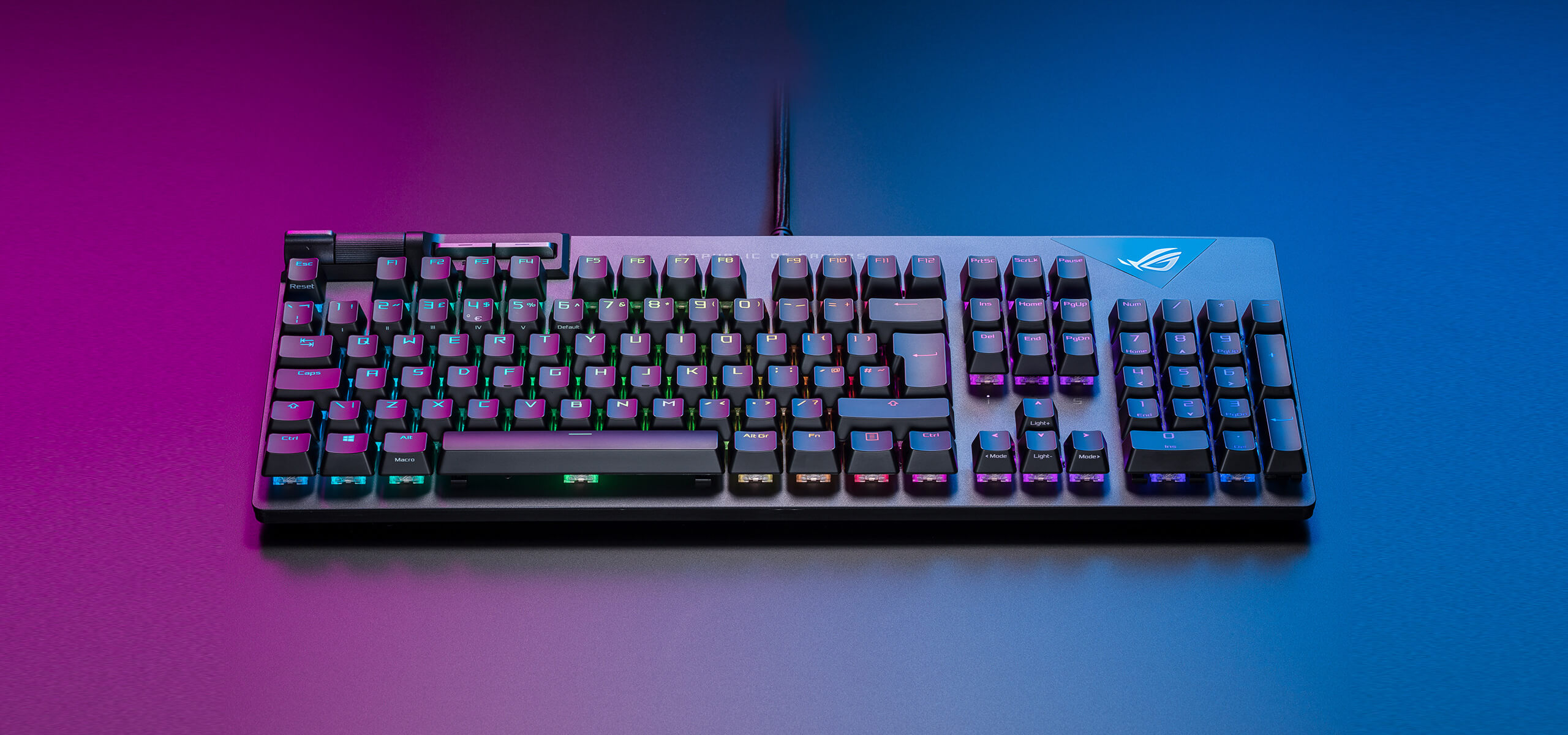 SWITCH ENHANCEMENT
With Aura Sync RGB, the entire color spectrum and a range of dynamic lighting effects are at your command. Individually lit keys allow you to create a keyboard that's uniquely yours.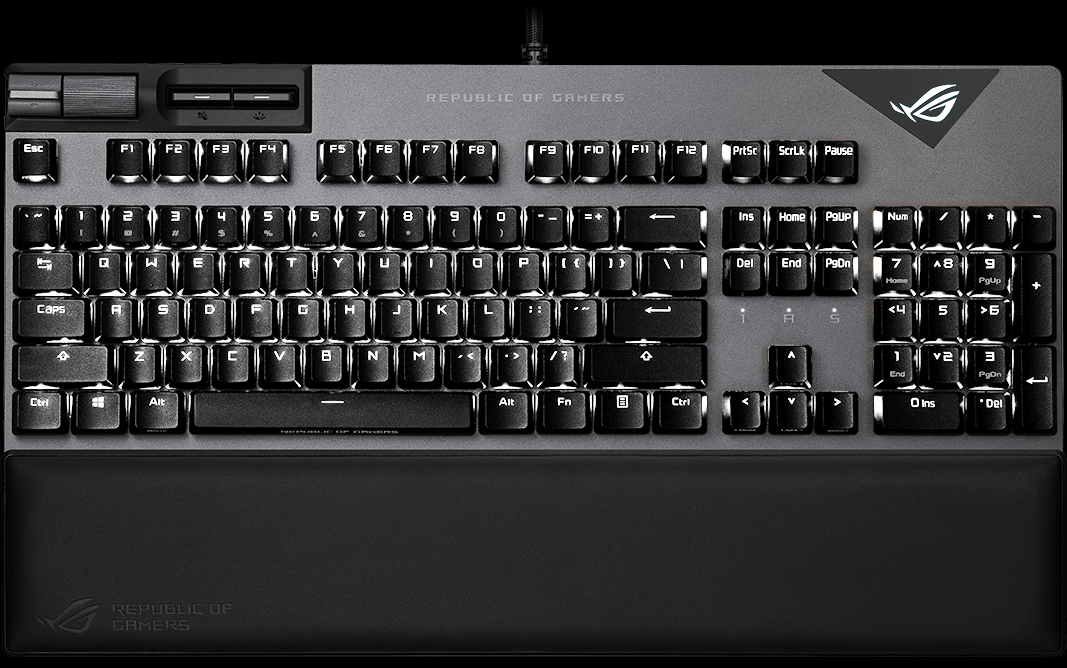 Static
Breathing
Color cycle
Rainbow
Starry night
Strobing
Music
Adaptive
Dark
Smart
ONBOARD MEMORY

Save up to six profiles, including up to five custom schemes, and use them anytime, anywhere.

100% ANTI-GHOSTING & N-KEY ROLLOVER

Every keystroke is registered accurately without miss no matter how fast you play.

WINDOWS LOCK KEY

Disable the Windows key with a single press for undisturbed gaming.

ON-THE-FLY MACRO RECORDINGS

Record macros on the fly and map them to fully programmable keys.

USB PASSTHROUGH

USB 2.0 passthrough lets you plug in a mouse or flash drive, or charge mobile devices.
Show More
Join the best gaming community!
Join our Discord server for a community of like-minded individuals, where you can stay up to date with all the offers, new arrivals and much more.
Join the discord server
Our benefits
Easy returns
14 days after purchase
Live support
Get in touch with us
Delivery in next day
Fast shipping
Secure Payments
K-NET & Credit cards
Subscribe to our newsletter
Subscribe to be the first to hear about our exclusive deals, special offers and upcoming products and collections.