GIGABYTE Z790 AORUS ELITE AX DDR5 (rev. 1.0) ATX Motherboard
Intel® Socket LGA 1700 :Support 13th and 12th Gen Series Processors
Unparalleled Performance :Twin 16*+1+2 Phases Digital VRM Solution
Dual Channel DDR5 :4*SMD DIMMs with XMP 3.0 Memory Module Support
Next Generation Storage :4*PCIe 4.0 x4 M.2 Connectors
Advanced Thermal Design & M.2 Thermal Guard III : To Ensure VRM Power Stability & M.2 SSD Performance
EZ-Latch Plus:M.2 Connectors with Quick Release & Screwless Design
Fast Networks :2.5GbE LAN & Wi-Fi 6E 802.11ax
Extended Connectivity :DP, HDMI, Front USB-C® 10Gb/s, Rear USB-C® 20Gb/s
Smart Fan 6 :Features Multiple Temperature Sensors, Hybrid Fan Headers with FAN STOP
Q-Flash Plus :Update BIOS Without Installing the CPU, Memory and Graphics Card
* 8+8 phases parallel power design
GIGABYTE Z790 AORUS ELITE AX DDR5 (rev. 1.0) ATX Motherboard
Intel® Socket LGA 1700 :Support 13th and 12th Gen Series Processors
Unparalleled Performance :Twin 16*+1+2 Phases Digital VRM Solution
Dual Channel DDR5 :4*SMD DIMMs with XMP 3.0 Memory Module Support
Next Generation Storage :4*PCIe 4.0 x4 M.2 Connectors
Advanced Thermal Design & M.2 Thermal Guard III : To Ensure VRM Power Stability & M.2 SSD Performance
EZ-Latch Plus:M.2 Connectors with Quick Release & Screwless Design
Fast Networks :2.5GbE LAN & Wi-Fi 6E 802.11ax
Extended Connectivity :DP, HDMI, Front USB-C® 10Gb/s, Rear USB-C® 20Gb/s
Smart Fan 6 :Features Multiple Temperature Sensors, Hybrid Fan Headers with FAN STOP
Q-Flash Plus :Update BIOS Without Installing the CPU, Memory and Graphics Card
* 8+8 phases parallel power design
Twin 16+1+2 Hybrid Digital VRM Design
70A Smart Power Stage*
6-Layer 2X Copper PCB
PCIe 5.0 Ready Mid-Loss PCB
* Power Stage maximum current capacity is based on VCORE Phase.
Advanced Thermal Design
Fully Covered MOSFET Heatsinks
6mm Heatpipe
7.5 W/mK Thermal Conductivity Pad
Integrated IO Shield
4*PCIe 4.0 x4 M.2 Connectors
1*PCIe 4.0 M.2 with Thermal Guard III
3*PCIe 4.0 M.2 with Enlarged Thermal Guard
Support 13th and 12th Gen. Intel® Core™ Processors
Solid Pin Power Connectors
24 pin ATX Power Connector
8+8 pin CPU Power Connector
Dual Channel DDR5, 4 DIMMs
Multi-Key
Multiple function set by BIOS
Reset/RGB Switch/Direct to BIOS/Safe Mode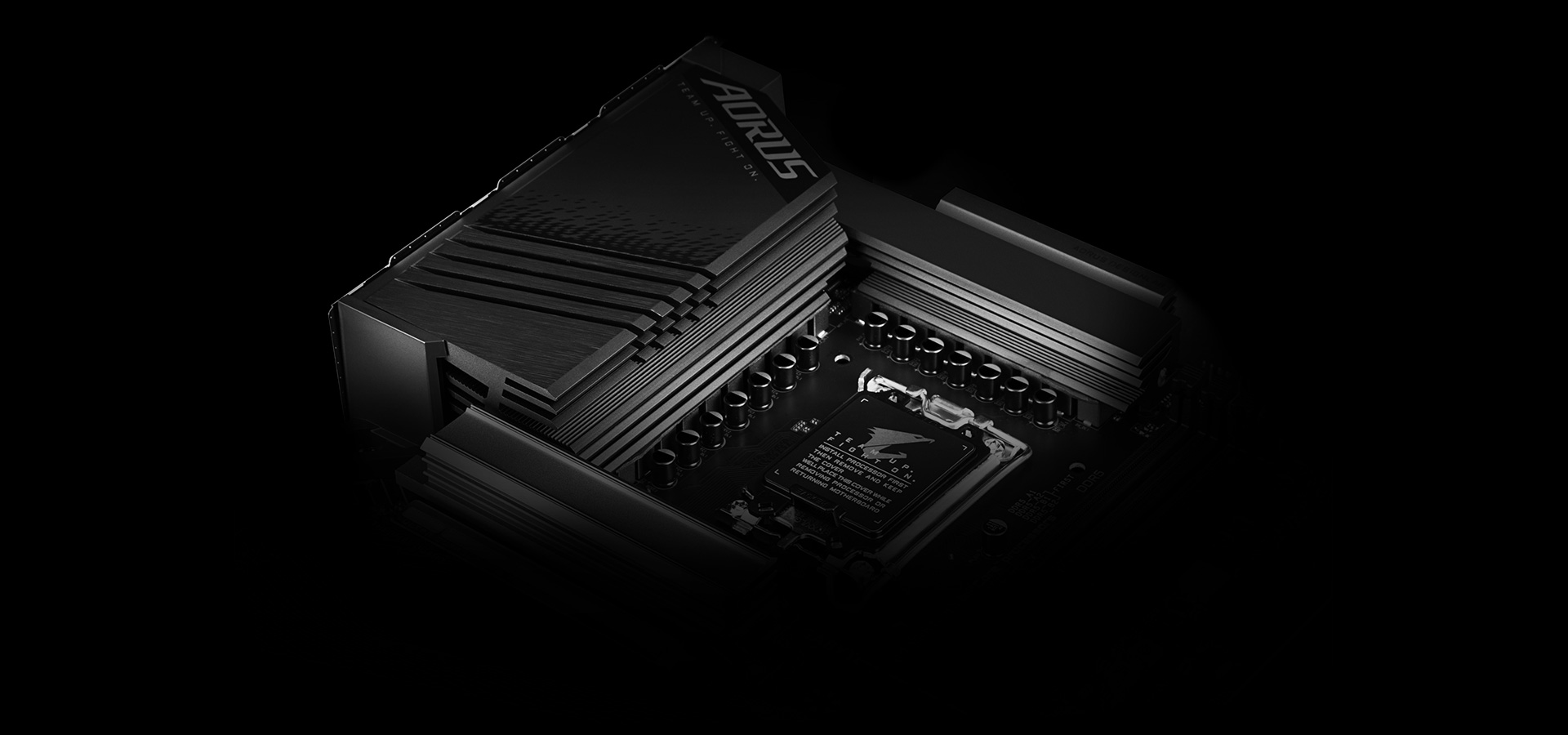 UNPARALLELED PERFORMANCE
With the fast-moving technology changes, GIGABYTE always follows the latest trends and provides customers with advanced features and latest technologies. GIGABYTE motherboards are equipped with upgraded power solution, latest storage standards and outstanding connectivity to enable optimized performance for gaming.
OUTSTANDING THERMAL DESIGN
Fully Covered MOSFET Heatsink
GIGABYTE Motherboards' unparalleled performance is guaranteed by innovative and optimized thermal design to ensure the best CPU, Chipset, SSD stability and low temperatures under full load application and gaming performance.
CONNECTIVITY
GIGABYTE Motherboards enable the ultimate connection experience with blazing data-transfer speeds through the next generation network, storage, and Wi-Fi connectivity.
PERSONALIZATION
GIGABYTE motherboards bundle several useful and intuitive software to help users to control every aspect of motherboard and provide customizable lighting effect with outstanding aesthetics to fit your unique personality.
ULTRA DURABLE
GIGABYTE Ultra Durable™ design provides product durability and high-quality manufacturing process. GIGABYTE motherboards use the best components and reinforce every slots to make each of them solid and durable.
Key Feature
Intel® Socket LGA 1700:Support 13th and 12th Gen Series Processors
Unparalleled Performance:Twin 16*+1+2 Phases Digital VRM Solution
Dual Channel DDR5:4*SMD DIMMs with XMP 3.0 Memory Module Support
Next Generation Storage:4*PCIe 4.0 x4 M.2 Connectors
Advanced Thermal Design & M.2 Thermal Guard III: To Ensure VRM Power Stability & M.2 SSD Performance
EZ-Latch Plus:M.2 Connectors with Quick Release & Screwless Design
Fast Networks:2.5GbE LAN & Wi-Fi 6E 802.11ax
Extended Connectivity:DP, HDMI, Front USB-C® 10Gb/s, Rear USB-C® 20Gb/s
Smart Fan 6:Features Multiple Temperature Sensors, Hybrid Fan Headers with FAN STOP
Q-Flash Plus:Update BIOS Without Installing the CPU, Memory and Graphics Card
* 8+8 phases parallel power design