DJI MIC COMPACT DIGITAL WIRELESS MICROPHONE SYSTE/RECORDER FOR CAMERA & SMARTPHONE (2.4GHZ) DJI-MIC100-S
1-Person Interviews, Videos, Streaming
Connects to Cameras, iOS/Android Devices
1 x Clip-On Transmitter/Recorder Mic
Compact 2-Channel Receiver
Records 14 Hours of Audio
Bright OLED Display, Headphone Out
USB Audio Interface Functionality
Internal 5-Hour Batteries
Up to 820′ Wireless Range
Show more
Out of stock
Content creators of all experience levels can raise the production values of their videos, interviews, and streaming with the DJI Mic, an easy-to-use, truly wireless digital microphone/recorder system that offers vivid audio quality while supplying all the elements needed to capture audio from your subject to a DSLR/mirrorless camera or iOS/Android smartphone. The system records clear and reliable audio at up to 820' via a miniature clip-on omnidirectional mic/transmitter, which doubles as backup recorder for worry-free wireless. The tiny receiver can either be mounted on a DSLR camera or DJI Action 2 camera or plugged directly into the Lightning/USB port of a smartphone or laptop. Simply complete the initial setup and you can be ready to record quality audio in seconds.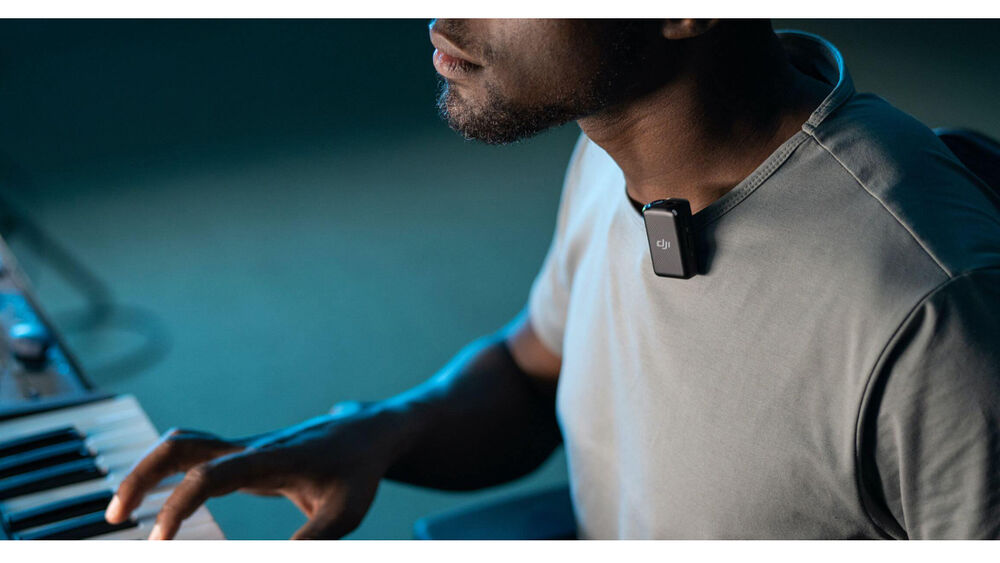 Wearable and Portable Microphones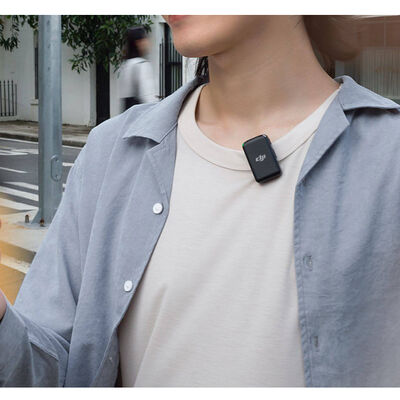 For a truly wireless experience, conveniently attach the transmitter to whatever you're wearing via the integrated back clip (or by using the clip magnet) without having to wire yourself or your talent.
You can also hold the transmitter in your hand and use it as a handheld microphone. Use the transmitter as a lavalier mic (no need for a separate mic), or operate it as a traditional bodypack transmitter by plugging an external lav mic (available separately).
The built-in mic features an omnidirectional pickup pattern that ensures reliable speech capture, even if mic placement is less than ideal; your subject's voice is captured with clarity, intelligibility, and consistency.
The miniature transmitter is comfortable to wear, easy to position, and easy to conceal on camera.
One furry windscreen is provided to effectively suppress wind noise while still recording clear sound.
Enjoy 5.5 hours of battery life from the transmitter and 5 hours from the receiver.
High-Quality Audio with Flexibility for Postproduction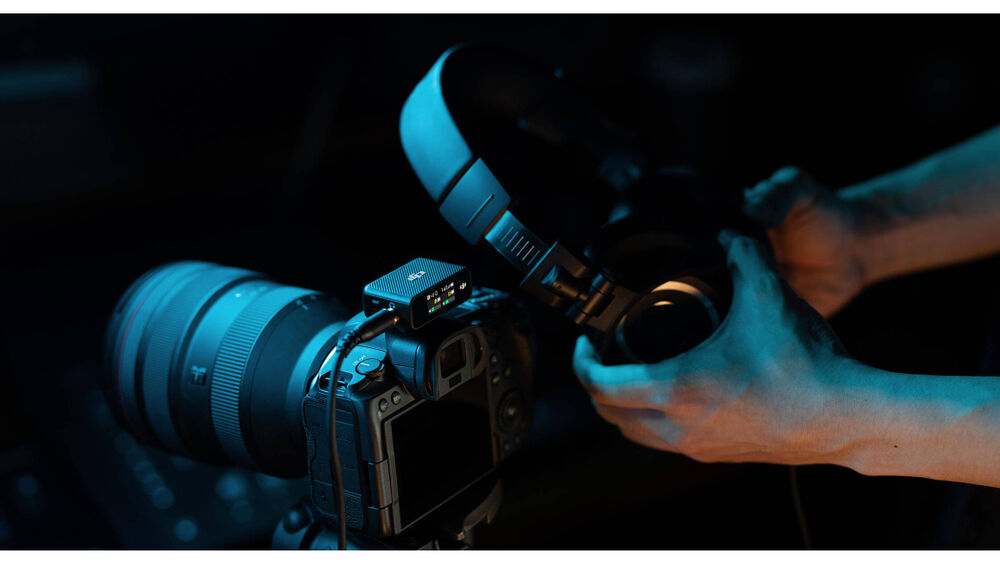 DJI Mic allows you to record high-fidelity, professional audio by accurately reproducing tone across a wide frequency range.
To ensure that you are capturing a clean signal, you can monitor your sound via the receiver's 3.5mm headphone output while recording
The Safety Track mode enables you to record a secondary audio track (in mono) as a backup with a lower volume of -6 dB (different from the main audio track), helping to safeguard your audio in case of unforeseen level spikes.
Built-In Recorder and Safety Track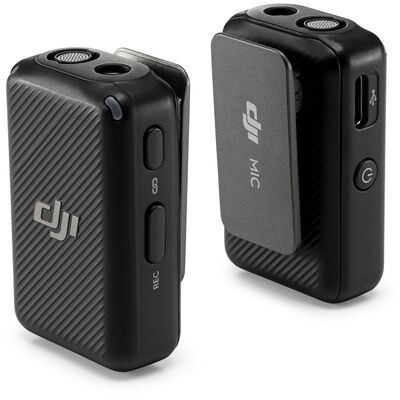 The transmitter has onboard recording capabilities with 8GB of storage for up to 14 hours of backup recording. This allows you to record audio directly to the transmitter as a backup in case of wireless interference and dropouts. You can also use the transmitter as a standalone recorder.
Files are in 48 kHz/24-bit mono WAV format and can be transferred to your computer via the USB Type-C cable.
Reliable and Secure Wireless with Encryption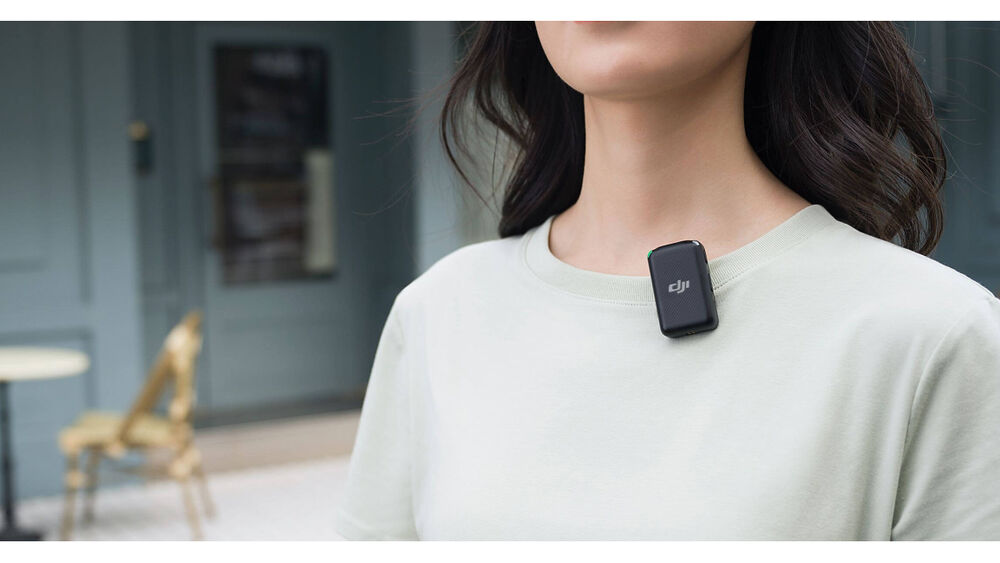 The DJI Mic is capable of recording crisp audio at distances of up to 820' using DJI's encryption technology for secure communications.
The optimized wireless transmission system ensures a stable and reliable stream of audio, even in busy areas, such as train stations, shopping malls, and offices.
The system avoids interference from TV and radio waves by operating in the 2.4 GHz frequency band, which occupies frequencies beyond those of television, radio transmissions, and UHF wireless microphone systems.
Easy to Operate with Built-In Touchscreen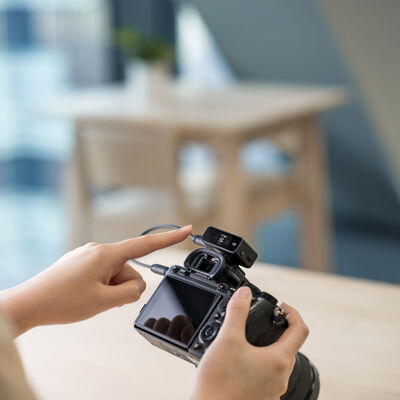 The receiver's touchscreen interface makes it easy to configure the system.
You can view and adjust gain levels between -12 and +12 dB to find the perfect setting for your surroundings. Battery life, recording status, and wireless signal strength are also displayed.
The touchscreen can be used to remotely mute the transmitter's microphone, start or stop recording, adjust headphone volume, and switch between stereo, mono, or -6 dB safety track.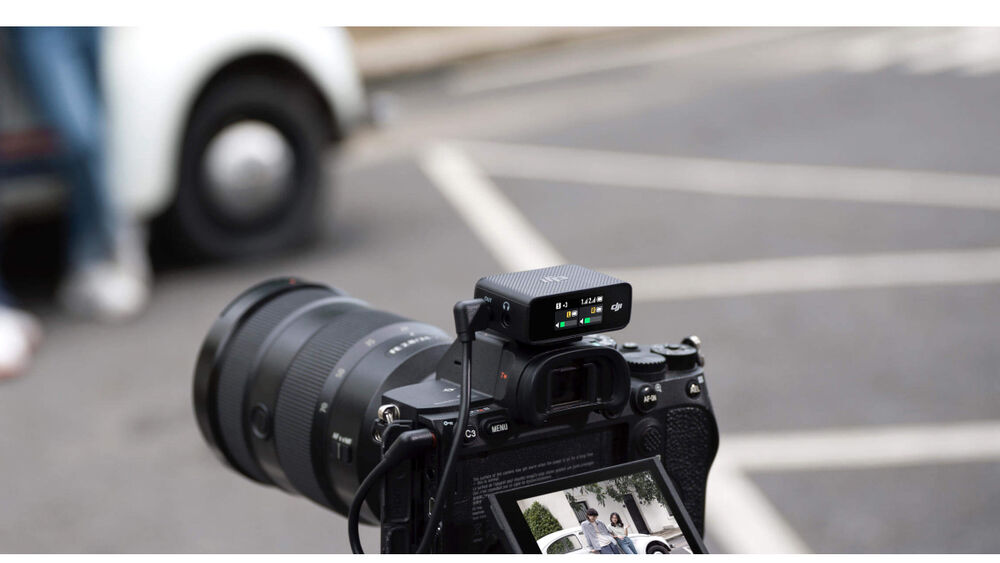 Different devices mean different input adapters, and DJI Mic covers them all.
If you want to use the DJI Mic with a smartphone, just insert either the Lightning or USB Type-C adapter into the expansion port at the bottom of the receiver and connect it to your phone and start shooting.
The receiver can be mounted on the hot shoe of a DSLR/mirrorless camera via the included hot-shoe adapter. Use the 3.5mm TRS cable to connect the camera's 3.5mm mic connector to the receiver's 3.5mm audio-output connector and start filming on your camera.
Show More
Join the best gaming community!
Join our Discord server for a community of like-minded individuals, where you can stay up to date with all the offers, new arrivals and much more.
Join the discord server
Our benefits
Easy returns
14 days after purchase
Live support
Get in touch with us
Delivery in next day
Fast shipping
Secure Payments
K-NET & Credit cards
Subscribe to our newsletter
Subscribe to be the first to hear about our exclusive deals, special offers and upcoming products and collections.