RODE X XDM-100 Professional Dynamic USB-C Microphone
Advanced DSP for Gaming & Streaming
Dynamic Capsule for Less Room Noise
Cardioid Pattern for Focused Pickup
USB-C for Easy Plug-and-Play Operation
Built-In High-Gain Revolution Preamp
24-Bit / 48 kHz A/D Conversion
Includes Pop Filter
Includes PSM1 Shockmount
4 Mics at Once Max via UNIFY Software
Show more
The Rode X XDM-100 is a USB-C microphone, featuring advanced DSP and a built-in high-gain preamp for gaming and streaming applications. The microphone's dynamic capsule is designed to be positioned close to the subject and picks up less unwanted sounds and room reflections from further away, making the XDM-100 well suited for use in untreated rooms and home studios. In addition, the cardioid polar pattern focuses audio capture in front of the mic, picking up less sound from the back and sides for a cleaner and clearer vocal sound.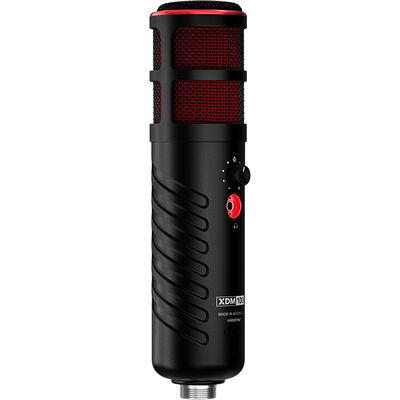 Plug-and-Play USB-C Connectivity with Headphone Monitoring
The XDM-100 features Rode's ultralow-noise, high-gain Revolution preamp, powered via the USB-C bus connection, ensuring a robust signal level for the built-in 24-bit / 48 kHz analog to digital converter.
A zero-latency 3.5mm headphone jack with volume control and mic mute button allows you to monitor your audio in real time, so you can hear exactly what the mic capsule is picking up.
A pop shield is supplied to reduce breath and plosive noise.
The included shockmount helps to isolate the mic and reduce vibration noise.
A 9.8' headphone extension cable is provided to give you ample room to move while you're podcasting, broadcasting, or gaming.
Rode's UNIFY audio software is included, which allows you to unlock additional features of the mic's powerful internal DSP and mix up to four USB microphones at once for podcasting and streaming applications.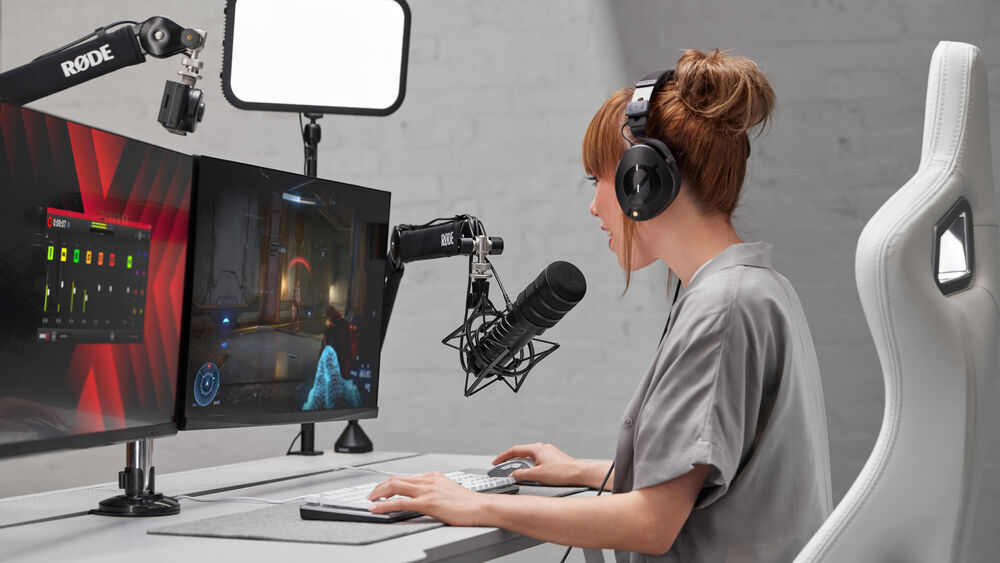 Complete Control of Your Audio
The included UNIFY software gives you complete control of all your audio inputs and outputs in one intuitive mixer.
The intuitive software takes seconds to set up and is super easy to use, even with the most complex streaming or gaming setups, so you can go live with incredible audio in seconds.
Mix up to four microphones and six virtual audio devices including your game, chat, music, system, and browser.
Seamlessly capture your livestream audio with UNIFY's onboard recording functionality, then optimize it for major audio platforms. Record in stereo or multitrack for ultimate flexibility when creating content.
Create the perfect audio experience for your audience, your teammates, and yourself with independent sub-mixes for all your outputs. Monitor all sound sources in full definition.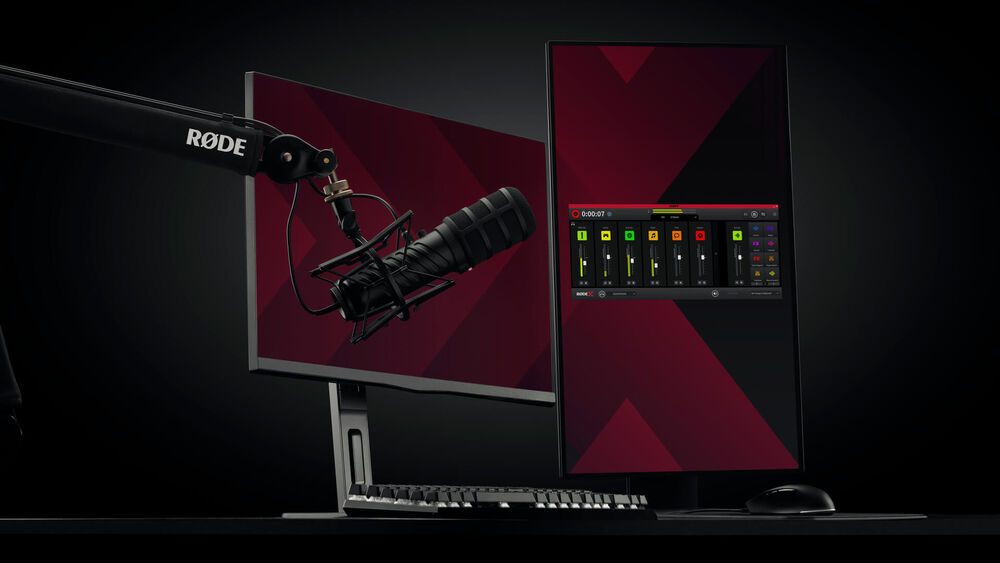 Craft Your Signature Sound
Customize the XDM-100's sound signature to suit your voice with advanced APHEX processing, including the legendary Aural Exciter and Big Bottom.
Remove background noise and make your audio sound smooth, detailed, and punchy with a compressor, noise gate, and high-pass filter.
Fine-tune to perfection with granular control over every processor, just like a professional audio mixing software.
When using UNIFY with a Rode X mic, all audio processing is managed by a powerful DSP chip inside the microphone, which takes a load off your CPU and means you hear everything in your headphones as it happens.
Show More
Join the best gaming community!
Join our Discord server for a community of like-minded individuals, where you can stay up to date with all the offers, new arrivals and much more.
Join the discord server
Our benefits
Easy returns
14 days after purchase
Live support
Get in touch with us
Delivery in next day
Fast shipping
Secure Payments
K-NET & Credit cards
Subscribe to our newsletter
Subscribe to be the first to hear about our exclusive deals, special offers and upcoming products and collections.