Zoom U-24 USB Audio Interface
The U-24 is a compact, 2-in/4-out audio interface that provides all of the essential tools you need for recording and performing with high resolution, 24-bit/96 kHz audio—anywhere you go. Get incredible sound quality thanks to high-quality, low-noise preamps—the same ones found on our acclaimed H5 and H6 Handy Recorders. Connect to your PC, Mac, or iPhone/iPad via USB and record mics, instruments, and more. The U-24 delivers the same great sound as our U-44 interface, with a more streamlined feature set.
Show more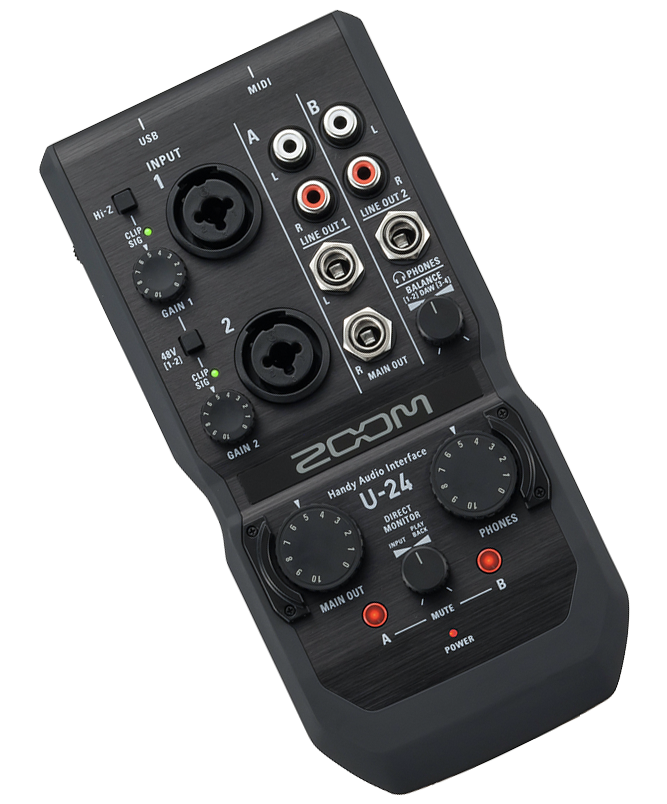 THE GO-EVERYWHERE INTERFACE
The bus-powered U-24 packs all the essential tools into a compact form factor that fits in the palm of your hand. Record with mics, instruments, and more at home or on the go—the U-24 is iPhone/iPad* compatible and small enough to take anywhere. It can even run on just two AA batteries for recording in the most remote locations.
* Requires 2 AA batteries or optional AC adapter for power, plus an Apple iPad Camera Connection Kit or Lightning-to-USB Camera Adapter for connection to iPhone/iPad.
Show More
Join the best gaming community!
Join our Discord server for a community of like-minded individuals, where you can stay up to date with all the offers, new arrivals and much more.
Join the discord server
Our benefits
Easy returns
14 days after purchase
Live support
Get in touch with us
Delivery in next day
Fast shipping
Secure Payments
K-NET & Credit cards
Subscribe to our newsletter
Subscribe to be the first to hear about our exclusive deals, special offers and upcoming products and collections.